Get The Latest InvestsInsights Report
2 BEST SPACs TO BUY NOW
2021 has been a record-breaking year for SPAC mergers. Many, such as Lucid Motors, delivering upwards of 600% in just months after the merger announcement.  If you are not participating in the fastest growing SPAC merger trend, today is your chance!  Our analysts name 2 SPACS they believe are positioned for spectacular gains in the new report.  It's yours FREE, online NOW!
DOWNLOAD THE LATEST INVESTS INSIGHTS REPORT TODAY – IT'S YOURS FREE!
Please enter your email address below.
---
After downloading your report, you'll also start receiving Invests Insights e-letter, where you'll receive even more megatrend news and opportunities.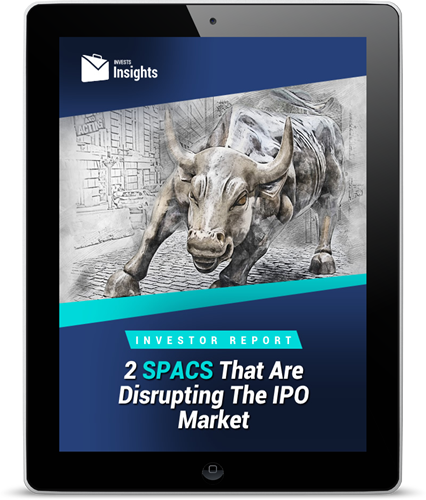 A Sneak Peek Inside
INVESTS

INSIGHTS LATEST REPORT
SPACs begin life in a slightly different way than most other companies do. Firstly, these companies don't actually do business or trade in any kind of commercial capacity on their own. These corporations exist for one main reason: Acquiring an existing company.
By playing a slightly longer game, SPACs have been growing in popularity in recent years. SPAC IPOs raised $13.6 billion in 2019 on 59 deals, up dramatically from the $3.5 billion raised in 2016 on just 13 deals.
In 2020 alone, there have been 182 SPACs who have managed to raise $65.7 billion. In a year of instability and chaos, the appeal of a SPAC is clear to see.
We expect SPACs to grow dramatically in the future, and that's why we're bringing two of our favorite SPAC suggestions to you.  Exciting things are happening with these special purpose acquisition companies and if you're looking for some of these companies to watch, here's what we'd recommend.