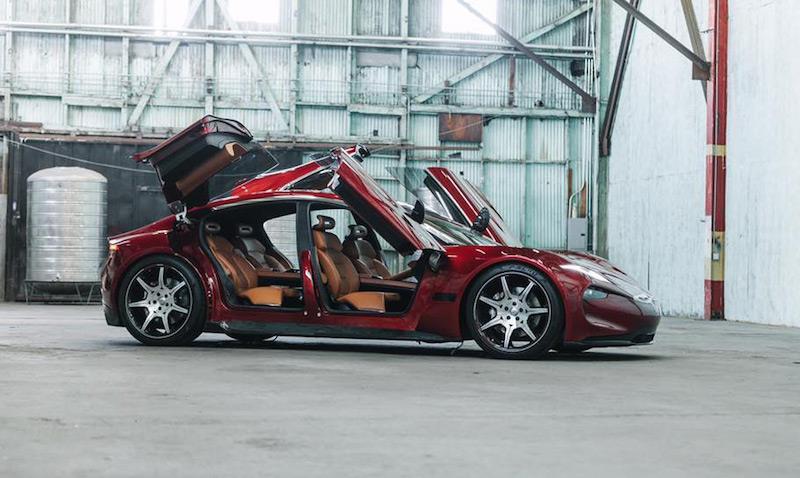 Investors are still undecided on the new all-electric SUV, and missing information isn't reassuring the market.
Car designer Henrik Fisker's been talking a good game about Fisker (FSR). His new electric car vehicle company has been promoting its new all-electric SUV, the Fisker Ocean, but investors aren't sold just yet. As good as it looks, there's plenty of information missing, and Fisker isn't forthcoming about it. Until these questions are answered, investors should hit the brakes.
How Many Potential Buyers Are There?
Fisker's range of vehicles is undeniably beautiful. From the BMW Z8 roadster, to the Aston Martin Volante, and then his namesake, the Fisker Karma. With that kind of track record, Fisker should only need to do the minimum to get investors lining up to buy. In fact, to even line up, potential buyers have been forking out $250 just to wait.
So, where is it? Fisker stated that his company has 266,000 individual shareholders, which in his words, "shows the potential we might have in growing our reservations … If every shareholder makes a reservation of the Fisker Ocean, we would do extremely well and you yourself would do extremely well."
The only problem is this: how many potential buyers actually are there? As of the moment, there's no word. The company has remained quiet on the number of Ocean reservations, something we find…strange. Especially when on June 8, Fisker told investors that his goal by end of this year is to have 25,000 reservations, or $925 million in potential sales. As he says: "that means we should be sold out for the year 2023. So that's the goal we have set ourselves." That would total up to a not so subtle $2 billion in sales.
The only problem is that if each individual investor bought the Ocean's cheapest model—valued at $37,000—Fisker would have $9.8 billion in sales. With its current market capitalization standing at only $5 billion, there's still a disparity between where Fisher wants sales to be, versus where they actually are.
Will the Car's Real-World Debut Really Help?
Fisker will showcase the Ocean in November, at the LA Auto Show. But, if you were hoping to be wowed into a purchase, you'll need to keep your hands on your cash a little while longer. It won't actually go to sale until 2022, with many not getting theirs until 2023.
With such a staggered launch, there's ample opportunity for each of the vehicle's faults to be demonstrated to the market, meaning that we can't be entirely sure if this real-world debut will really help. Not to mention the speed at which this market is being flooded by rival and competitor electric vehicle firms.
The company's future really hinges on the test drives that Fisker is rolling out this summer. Fisker's vehicle is stocked with many of the climate-friendly add-ons that his investors love, but any one part of his entertainment system of wheels could go wrong and that could spell trouble for this vehicle. Investors should keep a close eye on these initial test drives very closely indeed.
How Will the Lease Experiment Pay Off?
Fisker is also trialing a flexible lease program. Just like a more traditional lease, buyers put down $3,000 and, depending on which model of the Ocean they own, pay back around $380 a month. In return, they'll face no milage or term limits, nor any maintenance costs.
It's certainly a different approach and those more amenable to traditional leases might not like the sound of it, but Fisker certainly does, "Over a potentially 12-to-15-year lifetime of this vehicle, we will keep sending it out to lease, so that really means we are recycling the same vehicle" he said, adding, "after five years of leasing, this car is fully paid for, and then we're just leasing it out. It is just a money-making machine for Fisker".
But Fisker is assuming that the traditional lease buyer won't care about paying the premium of a five-year-old car with 80,000 miles on the dashboard. Regardless of whether it can fit an eight-foot surfboard inside.
Where's it Coming From?
Fisker was bought out of bankruptcy in 2013 by Chinese firm Wanxiang Motors. Not a problem. Well, not yet.
US policymakers are looking harder than ever at some of China's business investments, and not in a complimentary way. If the government was to decide that only American vehicles, from battery to wheels, can qualify for electric vehicle tax write-offs and discounts, Fisker may very quickly find itself in trouble. The Ocean is made in California, but that won't spare it from the scorn of Congress—especially if we're not sure where the batteries are coming from.
What matters for Fisker for now is turning successful test drives into firm commitments. If that timeline is disrupted, Fisker's downside and risk profile could drag the company down. With or without the Ocean.