Mexico strike: Thousands of Mexican workers are striking for higher pay
Flipboard Hundreds of Coca-Cola workers are camping out at a major bottling plant until they get a raise. More than 8,000 Walmart employees were prepared to walk off the job, until management met some of their demands.And 30,000 striking factory workers have finally returned to work after a month-long strike. Workers are organizing at unprecedented…
Flipboard Hundreds of Coca-Cola workers are camping out at a major bottling plant until they get a raise. More than 8,000 Walmart employees were prepared to walk off the job, until management met some of their demands.And 30,000 striking factory workers have finally returned to work after a month-long strike. Workers are organizing at unprecedented rates along the border — in Mexico. Since January, thousands of factory workers have been striking for higher wages in Mexican border cities, which are home to hundreds of factories run by US companies and subcontractors. Factory workers, who generally earn about $2.
50 an hour , make car parts, washing machines, appliances, and even soda for American consumers across the border. Workers are angry with their employers for paying them poverty wages, but they're also upset with their labor unions, which are often controlled by businesses and government officials. So far, union officials have been unable to stop the strikes, which began in January in Matamoros, an industrial border city that sits across the Rio Grande from Brownsville, Texas. #comparte #parolaboral #Matamorostamps .
Trabajadores de más de 45 plantas salieron a las calles de Matamoros a exigir que se les dé un aumento salarial y un bono anual que por derecho les corresponde, han comenzado un paró laboral, amenazando con ir a huelga. pic.twitter.com/2lxUte2Eor — Carlosm7 (@Carlosm56510630) January 17, 2019 The strikes have been so successful that they've sparked what is now called the 20/32 Movement, based on the 20 percent pay raise and 32,000 peso annual bonus (about $1,600) that striking factory workers in the city initially demanded, and eventually won. The movement is now spreading beyond factories in the border region, with cashiers at US-owned supermarkets and fast-food chains demanding raises too.
That includes Sam's Club stores and Walmart stores.
The weeks-long strikes have caught business groups and employers off guard. The Mexican government and labor unions have long controlled the workforce with an iron grip, immediately quashing labor unrest by jailing workers who go on strike. It's just one of the reasons why wages in Mexico remain among the lowest in the developed world — a setup that US companies have encouraged. But that's all starting to change because of two people: Mexico's new populist president, Andrés Manuel López Obrador, and US President Donald Trump. Despite their significantly different stances on policy,both presidents share the view that Mexican labor laws need a major overhaul to make free trade between both nations work.
And, somewhat ironically, it was López Obrador's recentdecision to hike the minimum wage that triggered massive strikes. Raising the minimum wage was unprecedented In December, López Obrador fulfilled one of his campaign promises: he raised the national minimum wage. The 16 percent increase, which went into effect in January, raised the wage floor to about 0.60 cents an hour.
To be clear, that's still a pretty bad rate. AMLO simply raised the minimum to keep up with the cost of feeding a family of four. The new minimum wage just ensures that people don't starve to death, and it's certainly not enough for families to pay rent or buy anything else, really. But it was still seen as a major win for workers in Mexico, who on average earn about $12.50 a day.
As part of this new policy, AMLO created a separate minimum pay rate for workers in the border region, where about 2 million people work in factories, or maquilas, owned by multinational corporations. The new minimum wage in border states is about $1.1 an hour —double what it was before. To help offset the cost to employers, AMLO included a tax cut for businesses along the border. Javier Zarracina/Vox But here's the thing: Factory workers in cities like Matamoros were already earning about $2.
50 an hour, so the change didn't benefit them at all. They, too, insisted on getting a raise along with minimum-wage earners,and many of their labor contracts actually stipulated that they would get raises and bonuses based on changes to the minimum wage. Which meant that their salaries should have doubled to about $5 an hour because the minimum wage had doubled. But the maquiladora industry in Matamoros, and the Day Laborers, Industrial Workers, and Maquila Industries Union, which represents most factory workers in the city, said such a wage hike was too much. So two weeks after the new wage laws went into effect, on January 1, about 30,000 workers went on strike.
Their demand: a 20 percent raise and a 32,000-peso (about $1,600) bonus. Business groups were outraged. The Mexican Employers Federation called it a " crisis ." The local chamber of commerce said the city would lose 20,000 jobs . Factories threatened to close. Workers blocked access to their work sites, essentially shutting down 45 factories for several weeks. By February 9, something unexpected had happened : Managers at 45 factories agreed to employees' demands, and their 30,000 employees got the raises and bonuses they asked for. At least two factories, including a Chinese automaker, decided to move elsewhere, and fired 1,500 people.
That didn't discourage workers. In fact, strikes have started to spread to other Mexican border states , including Coahuila; Reynosa, Tamaulipas; Agua Prieta, andSonora. Coca-Cola workers are still striking. Walmart barely avoided a work stoppage. Hundreds of workers at one of Coca-Cola's largest bottling and distribution plants have refused to go to work for almost two months, demanding the same 20 percent increase with a $32,000 peso bonus. Many have been camped outside the facility in Matamoros, blocking strikebreakers from entering and bringing production nearly to a halt. The Coca-Cola bottling plant, Arca Continental, is one of the few employers in the state of Tamaulipas that have not agreed to workers' demands. On Tuesday, employees put on their uniforms and gathered outside the sprawling facility to continue the strike.
Some had slept on mattresses on the sidewalk, according to video posted online by Susana Prieto Terrazas , a labor lawyer who is helping organize the strikes. "We're going to stay here as long as we need to," said one of the workers standing outside. Their homemade signs accused the company of taking advantage of them. "If they punch one of us, they punch all of us," read one of the signs.
A spokesperson for Coca-Cola in Mexico told me that the company agrees with the way the Arca Continental, which runs the bottling plant, is handling the strike, but didn't say whether or not Coca-Cola supports the workers' demands. "We are closely following the evolution of the situation, and we trust that it will be solved as soon as possible, always seeking for the welfare of our collaborators," Lorena Villarreal Clausell, communications director for Coca-Cola Mexico, wrote in a statement to Vox. While factory workers have been at the forefront of the labor unrest, frustration has started to spread. In February, a labor union representing 8,000 Walmart and Sam's Club employees said they would go on strike unless the company agreed to the 20/32 demands.
Workers complained that Walmart made them work long hours and didn't pay them overtime as required by law. They also accused managers of discriminating against pregnant women, and not enrolling some workers in their health insurance and retirement programs, according to the Revolutionary Confederation of Laborers and Farmworkers union, which represents employees at about 180 Walmart and Sams Club stores in 10 states in Mexico.
"We, the workers of Walmart, have started a movement to reclaim our rights," the union stated in a video announcing the strike earlier this month. "We're fighting for better salaries, a percentage of sales, to prevent layoffs and for the respect of human rights." That includes janitors, cashiers, pharmacy clerks, and warehouse workers. Last year, workers at Walmart stores across Mexicoearned between $4.81 and $8.83 a day, according to Reuters .
En la #CROC damos el respaldo a los compañeros trabajadores de las tiendas Walmart. El apoyo a nuestros compañeros agremiados se realiza a nivel nacional. pic.twitter.
com/EXNrlCoG4C — CROC (@CROC_Nacional) March 2, 2019 The strike was set to begin last week, but the company reached an agreement with the union at the last minute. They would give employees a 5.5 percent raise and a productivity bonus — far less than they asked for, but enough to avoid a strike. The relative success of these strikes has a lot to do with politics.
López Obrador's administration is not cracking down on workers Mexico's new president and other members of his populist Morena party have political control in Mexico right now, after taking both chambers of Mexico's Congress for the first time this year.In the past, employers could count on the federal and state government to intervene in labor strikes, which often led to brutal crackdowns on workers. Unions rarely sided with the workers they are supposed to represent. But López Obrador and his allies in Congress are making it a point to remain neutral. They have been encouraging negotiations, but so far have refused to take punitive action against workers.
Mexican President Andrés Manuel López Obrador leaves a Spanish-language church in New York City when he was campaigning for the presidency on March 13, 2017. Andres Kudacki/AP "The businesses class also needs to take direct responsibility for this, they need to be more socially responsible toward workers, with the communities where they operate and with the environment," said Sen. Napoleón Gómez Urrutia, during a press conference last week, according to El Milenio newspaper .
"This is part of our national politics and the new union movement we are promoting, there has to be economic justice for there to be a peaceful labor environment." The administration's pro-labor policies will inadvertently help an unlikely ally: President Donald Trump. Mexico must pass new labor laws for the trade deal to go into effect In November, President Donald Trump announced that he had accomplished one of his campaign promises: he had reached a deal with Canada and Mexico to replace the North American Free Trade Agreement , or NAFTA. Under the new deal, known as the USMCA, Mexico has promised to pass laws that will guarantee workers the right to form unions and negotiate their own labor contracts.
Right now, workers in Mexico have the right to unionize, but they are often left out of the negotiating process. US manufacturers — and most other companies — end up dictating the terms of the contract with labor unions to their own benefit, without any input or approval from employees. Workers have also reported retaliation from employers when they try to create a labor union.
Trump still needs Congress to ratify the pact, which will likely face some resistance from House Democrats.
Mexico and Canada will also need to get their lawmakers on board. President Trump shake hands with Mexico's Foreign Minister Luis Videgaray Caso as he arrives to speak on trade in the Oval Office on August 27, 2018. Mandel Ngan/AFP/Getty Images Trump had repeatedly railed against NAFTA for decimating the US manufacturing industry. When the trade pact was enacted in 1994, labor unions worried at the time that allowing goods to cross the border untaxed would give US manufacturers too much incentive to move factories and jobs to Mexico, where wages were very low and environmental standards more relaxed.
Proponents of NAFTA pushed back against that idea, saying that boosting trade would raise wages for low-skilled Mexican workers, pulling millions out of poverty and making it less attractive for companies to move factories to Mexico. But that definitely didn't happen. Competition from US farms was largely responsible for putting more than 1 million farmworkers in Mexico out of work, and the unemployment rate in Mexico is higher today than it was back then. On top of that, wages for workers in Mexico have hardly budged. The labor reforms in the new deal are supposed to increase wages for Mexican workers, to give US companies less of an incentive to move manufacturing jobs south of the border.
Aside from giving workers a voice in collective bargaining, the USMCA would also require Mexico to pass a law extending labor protections to migrant workers, many of whom come from Central America and are vulnerable to exploitation. The " new NAFTA " would allow the United States, for example, to file labor complaints through the regular dispute resolution system, but only if it involves labor violations that are harming US trade. They can bring the complaint before a commission of government labor ministers from each country, but only after exhausting all efforts to mediate the issue and resolve it separately.
It seems like a long, painful process that could take months to complete. But it's better than the nonexistent process to deal with labor violations under NAFTA.
And it would require each country to take an aggressive, hands-on enforcement approach. The most challenging part will be enforcing a specific provision in USMCA that mandates that 40 to 45 percent of a car's parts must be made by workers who earn at least $16 an hour to avoid tariffs. That means that many Mexican factories that make parts for US car manufacturers would have to pay eight times what they currently pay the average factory worker. Or auto manufacturers would simply need to buy more car parts made in the United States, where wages for factory workers are much higher. The trade deal does not mention how the US government would even know what companies across the border are paying their workers.
It's not clear how the Mexican government would know, either.
But López Obrador is making some changes that align with USMCA, and lawmakers are expected to introduce the rest of the required proposals this spring. As a populist president whose political party now controls both chambers of Mexico's Congress, it shouldn't be hard for López Obrador to pass those reforms. Until then, the current labor unrest in Mexico will likely continue to spread..
The House just passed a bill to close the gender pay gap
House Speaker Nancy Pelosi, center, and Reps. Barbara Lee (D-CA), right, and Rosa DeLauro (D-CT), are seen in the Capitol. DeLauro is the author of the Paycheck Fairness Act, which passed this week. Tom Williams/CQ Roll Call House Democrats easily passed the Paycheck Fairness Act on Wednesday — their latest in a long series of…
House Speaker Nancy Pelosi, center, and Reps. Barbara Lee (D-CA), right, and Rosa DeLauro (D-CT), are seen in the Capitol. DeLauro is the author of the Paycheck Fairness Act, which passed this week. Tom Williams/CQ Roll Call House Democrats easily passed the Paycheck Fairness Act on Wednesday — their latest in a long series of attempts to make sure women and men are paid equally. The final vote was 242-187.
Democrats were joined by seven Republicans. To give you a sense of how long bill author Rep.
Rosa DeLauro (D-CT) has been fighting for this cause, she first introduced the bill in 1997.
"Very simple concept: Men and women in the same job deserve the same pay," DeLauro told Vox. "It used to be this was the fringe; it was a women's issue, 'Why do we have to deal with it?'" A gender pay gap has long existed; women who work full time in the United States make, on average, 82 cents for every dollar their male counterparts make.
And data from the Bureau of Labor Statistics shows the gap has actually widened in the past four years. House Democrats last passed DeLauro's bill when they were in the majority in 2009 (it failed the next year in the Senate).
Now back in the majority, they have a rare opportunity to pass a bill that has struggled to gain momentum in both chambers when it's come up. Even though DeLauro and labor experts say a pay equity bill should be bipartisan, the Paycheck Fairness Act has languished out of the spotlight when Republicans have been in power. Democrats are hoping the momentum of the #MeToo movement and a historic number of women in Congress will give this idea new life. "This is historic. Rosa has been introducing this bill forever," House Speaker Nancy Pelosi told the House Democratic Caucus on Tuesday, according to an aide present. "But public sentiment — public, social media, and all the rest — with help us with this.
" What's in the Paycheck Fairness Act The Paycheck Fairness Act essentially works to close loopholes in the landmark Equal Pay Act of 1963, which required that men and women receive equal pay for equal work. As Vox's Alexia Fernández Campbell wrote , that bill didn't exactly work as intended. Progress has been hampered in a number of ways: There are several reasons for the pay difference.
Women are less likely to negotiate pay, and more likely to be penalized when they try.They are also more likely to choose career fields that pay lower salaries and are often pushed out of the highest-paying professions in the country, which reward workers who put in long hours — schedules that disproportionately hurt working mothers . But after taking education, occupation, and work hours into account, researchers say that discrimination could explain about a third of the pay gap .
A 2013 study by the American Association of University Women found that women get paid 6.6 percent less than men in their first jobs, even after considering factors such as job location, occupation, college major, and number of hours worked. The Equal Pay Act says employers can't differentiate salary based on gender unless a number of factors — including seniority, merit, and work level — come into play. On its face, it makes sense; a new entry-level employee would not be paid the same as a higher-level employee with more experience. But over the years, women found out they were making far less than male colleagues with the same experience and job titles. The most well-known example is Lilly Ledbetter , who sued her employer Goodyear Tire after finding out male managers with less experience were getting paid more money that she was as a female manager.
Ledbetter's crusade resulted in the Lilly Ledbetter Fair Pay Act, which President Barack Obama signed into law in 2009. That law changed the Civil Rights Act so that workers could sue for fair compensation up to 180 days after receiving a discriminatory paycheck from their employers — rather than when the salary decision was made. DeLauro's Paycheck Fairness Act tries to push back on lingering inequity in three key ways. Perhaps most importantly, it would ban employers from asking candidates how much they made in previous jobs. It would also get rid of employer rules that keep workers from talking about their salary information, so that women could ask how much their coworkers are making and find out if they're underpaid. Third, the bill would require employers to be much more transparent about how much they're paying workers.
Employers would have to share salary data with the Equal Employment Opportunity Commission, so that body could watch out for potential discriminatory practices. As Fernández Campbell noted, that's gotten significant pushback from businesses that would like to keep that salary data private. And DeLauro said she's heard complaints in the past from male lawmakers asking why they had to deal with a "women's issue." "Women self-select to get less money! Those were the arguments I heard," DeLauro said.
But her bill doesn't get at another important root cause of the gender pay gap: the economic impacts of motherhood. As Vox's Sarah Kliff wrote, Princeton University economist Henrik Kleven found that mothers in Denmark (a country with a robust social safety net) saw their earnings take a significant hit after they had a child. Kleven compared the salaries of mothers to childless women and to men and found that "childbearing accounts for 80 percent of the gender wage gap in Denmark." As Kliff wrote : Kleven finds a sharp decline in women's earnings after the birth of their first child — with no comparable salary drop for men.
The cumulative effect is huge: Women end up earning 20 percent less than their male counterparts over the course of their career. His study is among a growing body of research that suggests what we often think of as a gender pay gap is more accurately discussed as a childbearing pay gap or motherhood penalty. Why it's taking so long for Congress to do something about the gender pay gap It's the 11th time DeLauro has brought up this bill, and its second time passing the House of Representatives. A number of things have hampered the bill's progress, most notably the number of years Democrats spent out of the majority.
But other impediments include delays while the courts figured out how to interpret the original 1963 law, according to Vasu Reddy, senior policy counsel for the National Partnership for Women and Families. Many judges interpreted the clause "any factor other than sex" in the 1963 law very broadly, she added. "Problems don't become apparent until you've had these bad rulings by the courts," she said. "Civil rights evolved over time. I think there's just been more awareness of different issues around equal pay." DeLauro, Pelosi, and other Democrats recognize the time is ripe to press the issue again.
Equal pay for equal work is having a renewed moment, especially in the wake of the #MeToo movement and high-profile Hollywood actresses going public about getting paid far less for big films than their male co-stars. But the problem is far more widespread, disproportionately hurting female and nonwhite workers.
"We are in a different environment," DeLauro said. "We're looking at the intersection of where the public is on men and women and the workforce, and we're looking at a body that is over 100 women who are here. Equal pay for equal work is now the center of public discourse today." It's unclear whether the bill has a path in the Senate.
But with the most diverse House class in history, advocates are feeling optimistic that something can get done eventually. "I think there have been gaps in understanding around women's experience that this new and diverse Congress can begin to close," said Victoria Budson, executive director of the Women and Public Policy Program at Harvard University's Kennedy School..
House Democrats pass equal pay for equal work act
Ten years after President Barack Obama signed the Lily Ledbetter Fair Pay Act into law, House Democrats voted Wednesday to approve the Paycheck Fairness Act, delivering one of the cornerstone pieces of their "For the People" agenda to the Republican-led Senate. The vote passed 242-187, primarily down partisan lines, as the full Democratic caucus voted…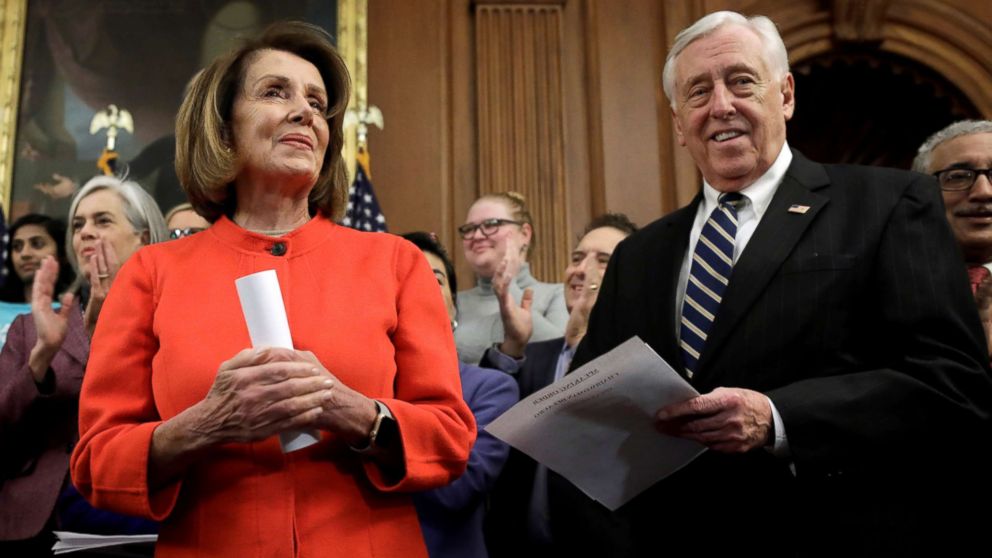 Ten years after President Barack Obama signed the Lily Ledbetter Fair Pay Act into law, House Democrats voted Wednesday to approve the Paycheck Fairness Act, delivering one of the cornerstone pieces of their "For the People" agenda to the Republican-led Senate.
The vote passed 242-187, primarily down partisan lines, as the full Democratic caucus voted in favor of the bill and seven Republicans crossed the aisle to support it.
Stressing that while there has been progress towards pay equality in recent years, Democrats renewed the push for equal pay for equal work because women still earn just 80 cents to the dollar a man makes for the same work.
Lily Ledbetter, the plaintiff in a landmark employment discrimination case, was on-hand to join Democrats at the bill's introduction on Jan. 30, urging Congress "to step up again."
"I'm here because equal pay for equal work is an American value," Ledbetter said.
"And it's time that we have American reality.
"
(Alex Wong/Getty Images) U.
S. Rep. Alexandria Ocasio-Cortez speaks as other House Democrats listen during a news conference at the U.S. Capitol in Washington, D.C., Jan. 30, 2019.
Women who work full time in the United States are paid on average 80 percent of what men are paid, according to a 2018 study by the American Association of University Women, an advocacy group that promotes equity and education for women and girls.
The analysis also found that disparities are even sharper among Latinas, at 54 percent, and black women, at 63 percent, and range by state from a low of 70 percent in Louisiana and Utah to a high of 89 percent in New York.
The political firepower that Democratic women possess heading into the 2020 presidential campaign continues to grow. There is a record number of women expected to seek the Democratic nomination and a record 102 women serving in Congress, but there is still a majority of white men serving in Congress.
"It's historic," House Speaker Nancy Pelosi, D-Calif., said of the bill. "And that it should happen at a time when we have over 100 women serving in the House of Representatives — that it should happen in the same Congress that we will also observe the 100th anniversary of the passing of the Amendment to have women have the right to vote: it's all very historic. It's all about progress.
"
(Alex Wong/Getty Images) Women's equality activist Lilly Ledbetter speaks as U.
S. Speaker of the House Rep. Nancy Pelosi, right, and other Democratic Congressional members listen during a news conference at the U.S. Capitol, Jan.
30, 2019 in Washington, D.C.
Ten years ago, women earned just 78 cents to each dollar a man earned at the same job.
If enacted, the bill would end so-called pay secrecy, ease workers' ability to individually or jointly challenge pay discrimination and strengthen the available remedies for wronged employees, according to the bill's sponsors.
The measure would strengthen and close loopholes in the Equal Pay Act of 1963 by holding employers accountable for discriminatory practices, ending the practice of pay secrecy, easing workers' ability to individually or jointly challenge pay discrimination, and strengthening the available remedies for wronged employees, according to its author, Rep.
Rosa DeLauro.
"Today, we can make a difference for working women and their families. The biggest economic challenge of our time is that Americans are in jobs that do not pay them enough to live on. This will be the first bill that the majority is passing to address that economic need for families," DeLauro, D-Conn., said during debate on the bill.
"Paycheck Fairness puts gender-based discrimination sanctions on equal footing with other forms of wage discrimination by allowing women to sue for compensatory and punitive damages," she said. "It better protects employees from being fired for sharing their salary with co-workers.
It establishes a grant program to provide salary negotiation training for girls and women. And, it ensures employers are not reliant on wage history when they hire an employee."
There are 45 Democratic cosponsors on companion legislation in the Senate, though the bill is unlikely to advance any farther given the Republican majority.
.
Maryland minimum wage: State passes $15 minimum wage bill
Workers rally for a $15 minimum wage outside the Maryland State House on March 13, 2019, in Annapolis, MD. Matt McClain/The Washington Post via Getty Images Maryland just became the sixth state to raise the minimum wage to $15 an hour. On Thursday, lawmakers managed to override Republican Gov. Larry Hogan's veto of a minimum…
Workers rally for a $15 minimum wage outside the Maryland State House on March 13, 2019, in Annapolis, MD. Matt McClain/The Washington Post via Getty Images Maryland just became the sixth state to raise the minimum wage to $15 an hour. On Thursday, lawmakers managed to override Republican Gov. Larry Hogan's veto of a minimum wage bill. Maryland's current minimum wage is $10.
10, and the new policy willgradually raise the wage floor to $15 by 2025.
Hogan had blocked the bill earlier this week, claiming that such a change would " devastate " the economy. But it was clear early on that he would be unable to stop the national momentum building around a $15 minimum wage. Democrats control both chambers in Maryland's General Assembly, and passed the wage hike bill with a veto-proof majority. On Thursday, they overwhelming voted to override Hogan's veto by 96-43 in the House and 35-12 in the Senate.
Maryland is now the third state to phase in a $15 minimum wage so far this year, and the sixth overall. In February, New Jersey and Illinois did so, too. While Hogan's veto was not surprising (he has always opposed a $15 minimum), it's a striking position in a state where the $15 minimum wage is so popular with voters in Maryland and across the country . The law will benefit about 573,000 workers in Maryland who currently earn less than $15 —about 22 percent of the state's workforce, according to the National Employment Law Project . Advocates for the wage hike didn't get everything they wanted in the bill.
For example, it won't eliminate the lower wage for tipped workers, which is $3.
63, and future changes to the minimum wage aren't tied to inflation. The bill also continues to let businesses pay agricultural workers less than the minimum wage, and allows employers to pay young workers less, too. But the push for a $15 wage is gaining support across the country, and has even reached Congress. For the first time ever, lawmakers on Capitol Hill are considering a bill that would raise the federal minimum wage to $15 an hour — another sign that the public pressure is paying off. It all started with frustrated McDonald's workers in Illinois Passing the $15 minimum wage bill is still a major win for the fast-food workers whose movement helped 5 million workers get pay raises in 2019 .
Within five years , they've transformed an improbable proposal into a popular policy — one that would address, in part, the slow wage growth American workers are experiencing. The workers' movement, called Fight for $15, organized strikes and rallies all across the country. But they saw little success until 2016, when California became the first state to hike hourly wages to $15, followed by Massachusetts, New York, and Washington, DC.
Business groups, meanwhile, are not happy about the fight for $15. And neither are their Republican allies in Congress. They've long pushed back against any effort to raise the wage floor at the federal level, claiming it would destroy small business and trigger massive job losses. But it's getting harder and harder for Republicans to justify their view that free-market capitalism — the idea that when the economy grows and unemployment is low, employers will be forced to raise wages — will take care of everyone.
Workers who already earn $15 an hour still struggle to raise a family, so it's no wonder that workers who earn less sometimes end up living on the streets . On top of this, Americans want the government to raise the minimum wage. Poll after poll shows widespread support , even among Republican voters. And a majority of voters want it increased to $15 an hour. That may explain why Thomas Donohue, president of the US Chamber of Commerce, recently toned down his usual criticism of efforts to raise the minimum wage, saying the chamber is " going to listen ." Even McDonald's, long criticized by labor activists for paying low wages at franchises, said this week that the company would no longer lobby against efforts to raise the minimum wage. The idea that raising the minimum wage is actually bad for workers is getting harder to support, as a growing body of research discrediting that claim emerges.
What research says about the impact of raising the minimum wage There are few topics US economists have researched more than the impact of raising a minimum wage. Their findings have varied over the past 30 years, but there are two things most mainstream economists now agree on . First, they agree that raising the minimum wage increases the average income of low-wage workers, lifting many out of poverty (depending on how big the raise is). Second, raising the minimum wage likely causes some job losses. The remaining disagreement revolves around how extreme the job cuts would be.
Some research suggests hundreds of thousands of American workers could lose their jobs with a modest increase to the minimum wage. Douglas Holtz-Eakin, an economist at the conservative American Action Forum, has pointed to a 2014 study from the Congressional Budget Office which estimates that a $10.
10 federal wage floor could lead to about 500,000 lost jobs because higher labor costs would lead some employers to scale back their staff. Other research concludes that increasing the minimum wage has an insignificant impact on employment, or none at all. The best way to evaluate the different conclusions is to analyze all the research findings together — what scientists call a "meta-analysis." And the most recent ones suggest that the most likely impact on employment is minimal. For example, a 2016 study by economists at Michigan State University crunched data from 60 research studies on the minimum wage in the United States since 2001. They concluded that a 10 percent increase in the minimum wage would likely reduce overall employment from 0.
5 percent to 1.2 percent. Another meta-analysis comes in the form of a new research paper by economists at the University of Massachusetts, University College London, and the Economic Policy Institute. They studied data from 138 cities and states that raised the minimum wage between 1979 and 2016.
The conclusion is that low-wage workers received a 7 percent pay bump after a minimum wage law went into effect, but there was little or no change in employment. In a 2018 working paper , soon to be published in the American Economic Journal: Applied Economics , economist Arindrajit Dube shows that raising the minimum wage significantly reduces the number of families living in poverty. For example, he concludes that a $12 minimum wage in 2017 would have lifted 6.2 million people out of poverty.
This growing body of research has helped lawmakers across the country argue for a $15 minimum wage. Maryland residents are the latest to win their case..