Animal with an anus that comes and goes could reveal how ours evolved | New Scientist
Animal with an anus that comes and goes could reveal how ours evolved Life 5 March 2019 The warty comb jelly has an anus like no other imageBROKER / Alamy Stock Photo By Michael Le Page A jellyfish-like creature has a neat trick that makes it unique among animals: its anus forms only when it…
Animal with an anus that comes and goes could reveal how ours evolved
Life 5 March 2019 The warty comb jelly has an anus like no other imageBROKER / Alamy Stock Photo
By Michael Le Page
A jellyfish-like creature has a neat trick that makes it unique among animals: its anus forms only when it needs to defecate, then disappears without a trace.
"That is the really spectacular finding here," says Sidney Tamm of the Marine Biological Laboratory in Woods Hole, Massachusetts, who made the discovery. "There is no documentation of a transient anus in any other animals that I know of."
Tamm thinks the discovery might represent an intermediate stage in evolution.
Advertisement
In some simple animals, such as jellyfish , the gut has only one opening, which functions as the mouth and anus .
It has been known since 1850 that comb jellies – which superficially resemble jellyfish, but belong to a separate group called ctenophores – have a through-gut , with a separate mouth and anus. Some even have more than one anus.
Missing anus But when Tamm studied the warty comb jelly ( Mnemiopsis leidyi ), he could not find its anus.
Only when the animals are actually defecating does a tiny opening appear – and it disappears again straight afterwards.
"It is not visible when the animal is not pooping," says Tamm. "There's no trace under the microscope. It's invisible to me."
His observations show there is no permanent connection between the gut and the rear of the body. Instead, as waste accumulates, part of the gut starts to balloon out until it touches the outer layer, or epidermis.
The gut then fuses with the epidermis, forming an anal opening. Once excretion is complete, the process is reversed and the anus vanishes.
Read more: Zoologger: The fish with its genitals on its head Because both the gut and epidermis are just a single cell layer thick, this can happen relatively easily and quickly. The animals defecate at regular intervals: once an hour in the 5-centimetre-long adults, and once every 10 minutes or so in the larvae.
Tamm thinks this process of the gut bulging and fusing with the epidermis to form an anus is how the anus evolved in the first place . The intermittent anus may represent an intermediate stage in which the structure has yet to become permanent.
Today, the transient anus may be unique to the warty comb jelly. Tamm is now looking at other species of comb jelly, but so far they appear to have permanent anuses.
Journal reference: Invertebrate Biology , DOI: 10.1111/ivb.
12236
More on these topics:
evolution Advertisement Trending Latest Video Free We may finally know what causes Alzheimer's – and how to stop it A third person may have become HIV-free after a bone marrow transplant Animal with an anus that comes and goes could reveal how ours evolved Being 'hangry' exists: why a lack of food can change your mood Three reasons why the periodic table needs a redesign Brexit, 10,000 BC: The untold story of how Britain first left Europe Hawkward! 'Expert' birdwatchers misidentify common birds as rarities Norway is starting the world's biggest divestment in oil and gas Japan inches towards building a successor to Large Hadron Collider Mae Jemison: The astronaut plotting a journey to other stars I want to believe: An astronomer's view of aliens What do you do with the world's most powerful laser? Anu Ojha: Will humans make it to Mars? Geraint Lewis: What is the fate of our universe? Emily Mitchell: Mysterious early lifeforms Norway is starting the world's biggest divestment in oil and gas Mae Jemison: The astronaut plotting a journey to other stars Don't believe women in science face huge inequality? Here's the proof Quiz: Do you know these great women of science? Women in physics: Why there's a problem and how we can solve it
Magazine issue 3220 , published 9 March 2019
Download Buy In Print Previous article
Asteroids hitting Mars could have made hot rain fall for decades
Next article
Climate change is the new normal but we don't seem to notice
Advertisement .
'The future of the human race': Scientists call for temporary global ban on gene-edited babies
Share on Reddit reddit Concerns over the creation of a sub species of humans has led to a call from global scientists for a temporary ban on the use of powerful DNA editing tools to make genetically modified children. The move is intended to send a clear message to rogue international scientists that experiments to…
Share on Reddit reddit Concerns over the creation of a sub species of humans has led to a call from global scientists for a temporary ban on the use of powerful DNA editing tools to make genetically modified children. The move is intended to send a clear message to rogue international scientists that experiments to rewrite the DNA of sperm, eggs or embryos destined for live births is unacceptable. The demand for a global moratorium on the issue comes after last November's shocking announcement that gene-edited twins had been born in China in an experiment that was widely condemned by the scientific community. Mainstream scientists generally oppose making babies with altered DNA, citing concern over tinkering with heritable genes. Such genetic changes may be passed to future generations, unlike gene editing done in parts of the body not involved in reproduction. Advertisement Advertise with NZME.
The need for a moratorium has been cited by 18 researchers from seven countries who published a commentary in the journal Nature. "There has been growing interest in proposals for genetic enhancement of humans," the scientists noted. But the potential risks are too great without scientists agreeing to international standards or controls. The idea is that a moratorium "will place major speed bumps in front of the most adventurous plans to re-engineer the human species".
Professor John Rasko from the University of Sydney School of Medicine supports the ban despite harbouring fears the horse has already bolted. "The subtlety here is that we thought we'd already asked for a moratorium," he told ABC radio this morning. "I've always been of the opinion that the future of the human race is through an international framework, through guidelines, through regulatory embrace." Roughly 30 nations already prohibit making gene-edited babies, and the desire for a global "pause" on the science is largely aimed at China. The country has drawn the ire of the scientific and medical community after Dr He Jiankui claimed he had altered human embryos with a powerful new tool resulting in the birth of genetically edited twin girls.
The incident is often referred to as the CRISPR baby scandal because of the scientific technique used in the experiment. CRISPR is a recently emerged technology that can be thought of as acting like a tiny pair of molecular scissors that can cut and alter nucleotides that make up DNA, enabling scientists to find and modify or replace genetic defects. It has the potential to help us fix diseases that have plagued humans for millennia. But if we get it wrong, we could do irreparable harm to all the generations to come. There is a plausible concern that such a technique could accidentally introduce an error into the human gene pool, thereby inadvertently creating a new disease that could be passed on for generations.
The use of CRISPR has also set off a fierce debate about the ethical implications of potentially using the cutting-edge science to pick and choose the human condition. Despite the lack of understanding about the precise heritability of intelligence, it is plausible that CRISPR could be used to enhance the intellect of unborn babies, not just their physical traits. Among the proposals voiced by international researchers calling for a moratorium is for individual nations to pledge to block such research for a specific period, perhaps five years. Following that, each country could decide on its own about what to allow but only after taking steps like providing public notice, joining international discussions and determining whether its citizens support proceeding with such gene editing.
The proposal does not cover gene-editing experiments that don't involve trying to establish a pregnancy. Herald recommends.
Think we should be at school? Today's climate strike is the biggest lesson of all | Greta Thunberg and others | Opinion
Greta Thunberg and her fellow climate change strikers around the world urge adults to join their fight. I t started in front of the Swedish parliament, on 20 August – a regular school day. Greta Thunberg sat with her painted sign and some homemade flyers . This was the first school climate strike . Fridays…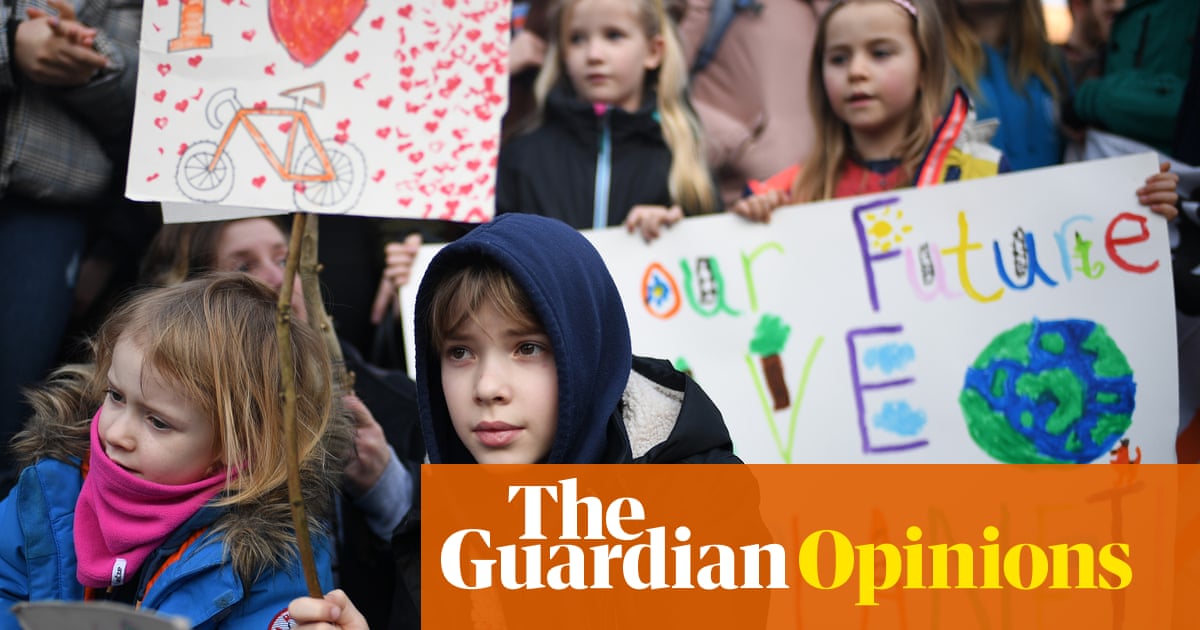 Greta Thunberg and her fellow climate change strikers around the world urge adults to join their fight. I t started in front of the Swedish parliament, on 20 August – a regular school day. Greta Thunberg sat with her painted sign and some homemade flyers . This was the first school climate strike . Fridays wouldn't be regular schooldays any longer. The rest of us, and many more alongside us, picked it up in Australia, Germany, Belgium, Switzerland, New Zealand, Uganda. Today the climate strike will take place all around the world.
This movement had to happen, we didn't have a choice.
We knew there was a climate crisis. Not just because forests in Sweden or in the US had been on fire; because of alternating floods and drought in Germany and Australia; because of the collapse of alpine faces due to melting permafrost and other climate changes. We knew, because everything we read and watched screamed out to us that something was very wrong.
That first day of refusing to go to school was spent alone, but since then a movement of climate strikers has swept the globe.
Today young people in more than 100 countries will walk out of class to demand action on the greatest threat humankind has ever faced.
These strikes are happening today – from Washington DC to Moscow, Tromsø to Invercargill, Beirut to Jerusalem, and Shanghai to Mumbai – because politicians have failed us. We've seen years of negotiations, pathetic deals on climate change, fossil fuel companies being given free rein to carve open our lands, drill beneath our soils and burn away our futures for their profit. We've seen fracking, deep sea drilling and coalmining continue.
Politicians have known the truth about climate change and they've willingly handed over our future to profiteers whose search for quick cash threatens our very existence.
Climate champion or climate dunce? Take this quiz to find out Read more
This movement had to happen, we didn't have a choice. Last year's UN Intergovernmental Panel on Climate Change's special report on global warming could not have been clearer about the extreme dangers of going beyond 1.5C of global warming. To have any chance of avoiding that extreme danger emissions must drop rapidly – so that by the time we will be in our mid- and late-20s we are living in a transformed world.
Play Video 2:55 'I want you to panic': 16-year-old issues climate warning at Davos – video
The students who are striking in cities, towns and villages around the world are uniting behind the science. We are only asking that our leaders to do the same.
If those in power today don't act, it will be our generation who will live through their failure.
Those who are under 20 now could be around to see 2080, and face the prospect of a world that has warmed by up to 4C. The effects of such warming would be utterly devastating. Rivers would flood, storms would wreak havoc on coastal communities and coral reefs would be eliminated. Melting polar ice caps would lead to dramatically higher sea levels, flooding coastal areas. Places on Earth will become uninhabitable.
Scientists have also shown us that burning fossil fuels is "the world's most significant threat to children's health".
Nine out of every 10 children around the world are breathing dangerous air . Our lives are being compromised before we are born.
Toxic particles from exhaust fumes pass through the lungs of pregnant women and accumulate in the placenta. The risk of premature birth, low birth weight and cognitive dysfunction this causes is a public health catastrophe. Pollution from diesel vehicles is stunting the growth of our lungs, leaving us damaged for life.
Toxic air from burning fossil fuels is choking not only our lungs but our hopes and dreams.
And the worst effects of climate change are disproportionately felt by our most vulnerable communities. This is not just about cutting down emissions, but about equity – the system we have right now is failing us, working only for the rich few. The luxury so few of us enjoy in the global north is based on the suffering of people in the global south.
We have watched as politicians fumble, playing a political game rather than facing the facts that the solutions we need cannot be found within the current system.
They don't want to face the facts – we need to change the system if we are to try to act on the climate crisis.
This movement had to happen, we didn't have a choice.
The vast majority of climate strikers taking action today aren't allowed to vote. Imagine for a second what that feels like.
Despite watching the climate crisis unfold, despite knowing the facts, we aren't allowed to have a say in who makes the decisions about climate change. And then ask yourself this: wouldn't you go on strike too, if you thought doing so could help protect your own future?
So today we walk out of school, we quit our college lessons, and we take to the streets to say enough is enough. Some adults say we shouldn't be walking out of classes – that we should be "getting an education". We think organising against an existential threat – and figuring out how to make our voices heard – is teaching us some important lessons.
Play Video 1:20 Thousands of UK students strike over climate change – video
Other adults keep saying: "We owe it to the young people to give them hope.
" But we don't want your hope. We don't want you to be hopeful. We want you to panic and we want you to take action.
We want you to join us.
We've relied on adults to make the right decisions to ensure that there is a future for the next generation – surely we don't have all the answers.
But what we do know is that we need to keep fossil fuels in the ground, phase out subsidies for dirty energy production, seriously invest in renewables and start asking difficult questions about how we structure our economies and who is set to win and who is set to lose.
Young climate activists around the world: why I'm striking today | Brianna Fruean and others Read more
And we are no longer alone.
Tens of thousands of scientists from around the world have released statements in support of the strikes by children. The scientists have been very clear about what we need to do to tackle climate change. We are uniting behind the scientists. We are only asking that our leaders do the same.
It is so important that this happens now. The kind of changes that need to happen mean everyone recognising that this is a crisis and committing to radical transformations. We strongly believe that we can fight off the most damaging effects of climate change – but we have to act now.
There is no grey area when it comes to survival.
There's no less bad option. That's why young people are striking in every corner of the globe, and it's why we are asking that older people join us on the streets too. When our house is burning we cannot just leave it to the children to pour water on the flames – we need the grownups to take responsibility for sparking the blaze in the first place. So for once, we're asking grownups to follow our lead: we can't wait any longer.
This movement had to happen. And now, you adults have a choice.
• Greta Thunberg is a youth climate strike leader in Sweden, Anna Taylor in the UK, Luisa Neubauer in Germany, Kyra Gantois, Anuna De Wever and Adélaïde Charlier in Belgium, Holly Gillibrand in Scotland, and Alexandria Villasenor in USA
Topics Environmental activism Guest edited by school climate strikers Climate change Greta Thunberg Intergovernmental Panel on Climate Change (IPCC) Europe Activism Protest comment.
This Arthritis "Cure Shot" Could Bring Relief to Millions
©2019 Distractify. All rights reserved. Accept ✖ Browsers may block some cookies by default. Click accept to allow advertising partners to use cookies and serve more relevant ads. Visit our privacy policy page for more information. Source: istock By Mustafa Gatollari 2 days ago Millions of people living witharthritis just received some amazing news: a…
©2019 Distractify. All rights reserved. Accept ✖ Browsers may block some cookies by default. Click accept to allow advertising partners to use cookies and serve more relevant ads.
Visit our privacy policy page for more information. Source: istock By Mustafa Gatollari
2 days ago
Millions of people living witharthritis just received some amazing news: a single injection could soon end a lot of their aches and pains.
One of the primary causes of arthritic pain directly stems from nerve growth factor, or NGF.
So scientists began asking: what if they could develop a vaccine that inhibited or completely eliminated the pain associated with NGF?
As of now, many people afflicted with arthritis have few options for dealing with their pain: they either use over the counter medicines such as ibuprofen or acetaminophen, or prescription solutions like corticosteroids and biologic response modifiers.
The problem with these treatments is they don't last, often become ineffective after a while, and have a range of side effects, from stomach issues to lower immunity to other illnesses.
Then there's the question of opiates, which, as anyone who's been on them for prolonged periods of time will tell you, are rife with issues. It's easy to become addicted and physically dependent on them. There's a reason why a worldwide opioid epidemic , not to mention other problems associated with opiates like suppressed appetites and constipation . Source: istock
They also come with the same issue as OTC pain medications: your body becomes acclimated to the drugs, so you need more over time for effective pain relief..
It's also worth mentioning that opiates don't necessarily numb targeted areas of pain: your body gets put in an overall funk. So those who take the pills suffer from a dip in quality of life.
What makes this vaccine so revolutionary is the injection targets only specific joints where arthritis pain occurs.
Professor Tonia Vincent, who helped co-author a study at Oxford University regarding the treatment, made glowing remarks about the medical/scientific breakthrough, saying it's the first of its kind. Source: istock
"This is the first successful vaccination to target pain in osteoarthritis, one of the biggest healthcare challenges of our generation," she said.
The vaccine stimulates the body's immune system to release antibodies that fight against NGF. It was first tested on mice with hindrances in their hind legs, a sign of osteoarthritis.
The vaccine seemed to cure their physical ailments.
The mice were no longer in visible pain and began distributing their weight evenly across all of their legs.
When doctors monitored the antibody levels in the rodents, researchers noted a marked increase.
The breakthrough could affect a huge portion of the world's population, especially senior citizens. Out of people surveyed in the U.K ., a whopping 25 percent of those who suffer from osteoarthritis reported they weren't provided with adequate treatment for their condition. Source: istock
Professor Tonia Vincent went on to say she's hopeful the vaccination will be safe for wide use: "Whilst there are still safety issues that need to be considered before these types of approaches can be used in patients, we are reassured that this vaccine design allows us to control antibody levels and thus tailor treatment to individual cases according to need.
"
Versus Arthritis, a charity that helps those afflicted with the condition, finds the research behind the vaccine — and its potential to change the lives of millions of people for the better — game-changing. Dr.
Stephen Simpson, who is affiliated with Versus, said, "We know that for the ten million people with arthritis, persistent pain is life changing. Too many people living with pain do not get effective relief from the treatments that are currently available." Source: fox
He continued, "And that is why the development of more effective pain killers, with fewer side-effects, is vital for people living with arthritis. Although at an early stage, this is highly innovative research and these results are very promising. We are proud to support research such as this, which aims to tackle this urgent problem and discover new ways to help people overcome pain.
"
What do you think? Would you or anyone you know with arthritis pain be down for a vaccine against pain associated with the condition? More from Distractify .