Admiral Schofield's defining moment, through his father's eyes
The snarl will live on long after Admiral Schofield's Tennessee basketball career ends. It's Dec. 9 in Phoenix. Then-No. 7 Tennessee had just upset No. 1 Gonzaga thanks to the heroics of Schofield, who scored 25 of his career-high 30 points in the second half, including a pair of go-ahead threes in the closing moments.…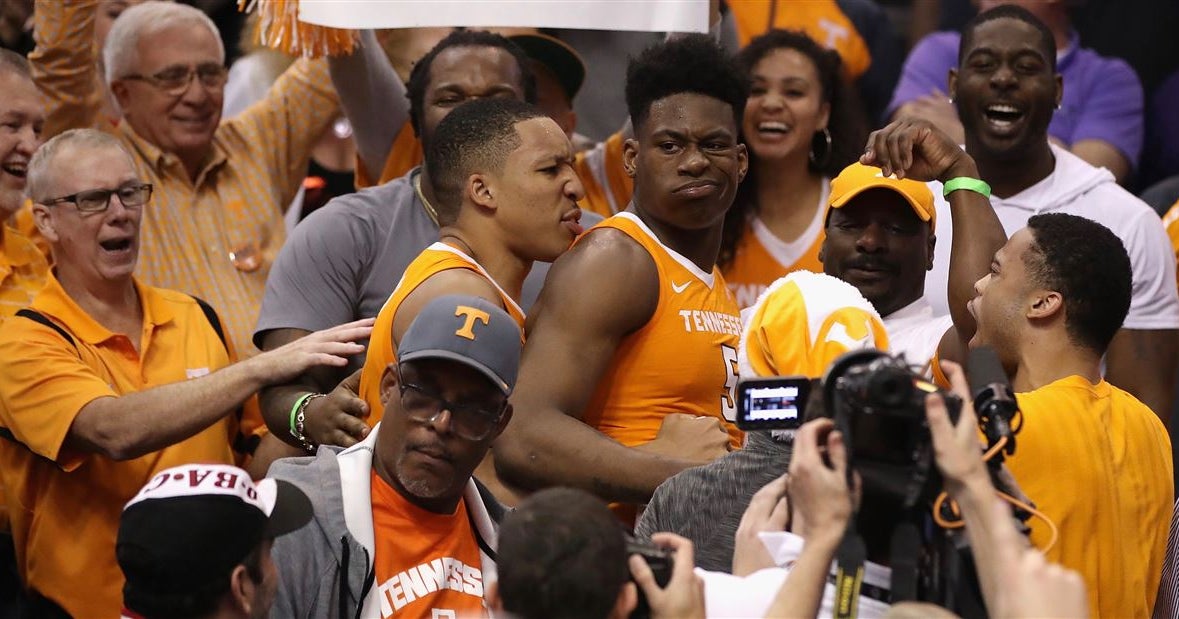 The snarl will live on long after Admiral Schofield's Tennessee basketball career ends. It's Dec. 9 in Phoenix. Then-No.
7 Tennessee had just upset No. 1 Gonzaga thanks to the heroics of Schofield, who scored 25 of his career-high 30 points in the second half, including a pair of go-ahead threes in the closing moments. As soon as the horn sounded, Schofield took a direct route to the stands, finding his father, Anthony Schofield , and his older brother, O'Brien , who had made the last-minute decision to make the trip to Talking Stick Resort Arena for the Jerry Colangelo Classic. The pictures caught the moment.
Schofield celebrating with his family. Grant Williams behind him. Lamonte Turner off to the side. Schofield paused, looked back over his shoulder and turned up his nose back toward the court, as if he was already reminiscing about what he had just done to the Zags. For his father, a Navy man who had taught his kids about just how far in life hard work can take you, the moment was one he saw coming. "And the reason for that is," Anthony Schofield told GoVols247, "to be totally honest, is because he wasn't recruited like a five-star recruit. He wasn't highly recruited. He's always been overlooked, if you will.
I've seen it time and time again." And Anthony offered the same encouragement time and time again while high-level offers eluded his son during a three-star recruitment. "Hey, let's just keep working at it," he would tell Admiral. "Your day is coming. Let's just keep working at it.
Your day is coming because you're a lot better than these guys. "You just haven't been in the right place at the right time. Let's just keep getting after it.
" This was his day. This was his right time and his right place. On national television. Against the No.
1 team in the country. Leading a team that was like him, a roster full of players who were under-recruited and overlooked.
"And when he made those few plays, when he made that shot, and when he came up there," Anthony said, "that's all I could reflect on. The point that you're not being overlooked now.
There's no way you can be overlooked with what you just accomplished. "For me, if he doesn't accomplish anything else, that was a very special moment in my life. It kind of gets me choked up every time I talk about it.
" There will likely be more emotion for the Schofield family Tuesday night, when No. 5 Tennessee (26-3, 14-2 SEC) hosts Mississippi State (21-8, 9-7) for a 9 p.m. Eastern Time tipoff (TV: SEC Network) on Senior Night at Thompson-Boling Arena. (Photo: USA TODAY Sports)
The performance against Gonzaga is one of the many moments on Schofield's winding road in Knoxville, navigating through a coaching change before he ever got on campus, then working his way into a role as one of the most important players in one of the most important eras of Tennessee basketball.
Gator Chomping in Gainesville, jersey-popping during a victory lap in Memphis, celebrating in the stands in Phoenix with his old man and the brother he grew up idolizing. But the story starts with Donnie Tyndall , the one-and-done former Tennessee coach who found Schofield back in 2014, offered him a scholarship and landed his commitment and, ultimately, his signature.
The marriage was short-lived. Schofield committed in August and signed in November. Tyndall was fired the following March, under the black cloud of an NCAA investigation at Southern Miss, his previous school. Just like that, the coach that had discovered him was gone. Rick Barnes was quickly hired to take over the Vols, after parting ways at Texas only days before, and Schofield stuck around, enrolling at Tennessee in June 2015. "I would definitely be wrong if I didn't give Donnie Tyndall and his staff the utmost respect for seeing something special in Admiral," Anthony said, "and aggressively recruiting him." Credit Barnes and his staff for everything that followed, taking an undersized post player and putting him on the wing, transforming his body and making him a constant mismatch — too quick for bigs, too strong for guards.
"Coach Barnes, being selected to come in and head the men's basketball team and take him, take what he had, the cards that he was dealt with, and turn it into what it is today is truly amazing," Anthony said.
It didn't happen overnight, though. And it wasn't easy. Lean times consumed his first two seasons, as Tennessee piled up 35 losses. Schofield played out of necessity as a freshman, but spent the first half of his sophomore season watching his numbers decline.
But Anthony trusted Barnes and his staff. He trusted the work of strength coach Garrett Medenwald .
He knew what the staff, describing the group as "top-shelf," was capable of. "I understood exactly what Coach Barnes (was about)," he said. "And it kind of reminded me of myself, to be honest with you. He's about his business.
And it's not so much his way or the highway, it's just that this is how we're going to do it and I'm going to help you get there. "If you don't have the mental or physical toughness, then you're in the wrong place." When Barnes reflects on Admiral's career, it begins and ends with work ethic. Coaches don't want to have to coach hard work.
They can't, if they're going to build a winning program. That was never a concern with the versatile big man Barnes inherited. "I do think it's a talent," Barnes said on Monday. "Not everybody equally works as hard as everybody else.
" In fact, he added, you can create a depth chart for hard work and you can number it from one to 16. Players know where they stand on that list, from top to bottom. "One thing about Admiral is he has always been at the very top of that list," Barnes said. "Maybe to a fault, to be quite honest with you, because his idea when things aren't going well is to do more, more, more and more, and often times I think he's drained himself mentally and physically.
"I appreciate that because hard work is not a given." It wasn't a given in the Schofield family. Anthony inherited it from his parents.
He passed it along to his children with his own twists, given his military career. "I truly believe that what you put in is what you get out of it," he said. "I've always taught my kids — not just Admiral, but his brothers and sister — it's all about hard work.
At the end of the day, if you haven't given it your all, and you feel like you left something behind, then you didn't do your full day's work. "That's just something I instilled in them.
They took that onboard and that's how they all are. I'm very proud of them for that." Admiral's hard work surfaced during a breakout junior season that landed him a first-team All-SEC selection and a decision to make during the offseason. He tested the NBA Draft waters but ultimately returned to school, where his senior season has included numbers that continue to climb, pairing with Williams to create one of the best tandems in college basketball.
"He's certainly never been afraid of putting time in," Barnes said. "He's always wanted to try and find ways to improve. I think Grant Williams would tell you that it helped him, knowing that Admiral had to do what he had to on that treadmill to get himself into shape. "Before he could even think about being a better basketball player, he had to get his conditioning right.
" (Photo: John Glaser, USA TODAY Sports)
The two led Tennessee to a 26-9 record last season, a share of the SEC regular-season championship and a No. 3 seed in the NCAA Tournament.
They've already matched that win total this season, won a program-record 19 straight games and spent four weeks ranked No. 1. They enter the last week of the regular season chasing another SEC title — tied for first in the standings with LSU — and have a No. 1 seed in the NCAA Tournament within arm's reach. Without Admiral and his hard work, who knows how much of that becomes reality. "It's really breathtaking for me," Anthony said, asked about watching what his son has become.
"I've always knew he had the abilities to do a lot of things, and I'm still waiting to see him tap into some of his abilities that he hasn't tapped into yet. "It has been very special, very amazing to see what see has become, not only as a basketball player but as a very respectable young man.
" Back in Phoenix, in the locker room after Schofield had rallied Tennessee late to stun Gonzaga, Barnes called him up in front of the team, sharing an emotional hug. Barnes told Schofield and the team that, when his game-winning shot went up, a play drawn up to get the ball in his hot hand, Barnes knew it was going in because all he could think of was all the hard work Schofield had put in.
"I just know how hard these guys work and I know what Admiral has done over these past four years," Barnes said on Monday, reflecting on the moment, "and when a guy can make a tough shot like that and win a big game like that, you do have some emotion for them and some feeling for them." (Want the latest scoop on Tennessee football and basketball? Make sure you're in the loop — take five seconds to sign up for our FREE Vols newsletter now!) The next emotion for his father is for what's ahead. If basketball is Admiral's future, so be it. Either way, he's ready. "I'm very excited," Anthony said.
"Even if it's not basketball, Tennessee has prepared him for the next level. Just to be out in the workforce. I'm not even overly concerned about that, because I know he can take care of himself.
He's prepared for that." If it is basketball, if it is a roster spot in the NBA, it will be another one of those moments, like in the stands in Phoenix, when a father gets a chance to see his son's hard work pay off.
"If it is basketball, I know he's prepared for that," said Anthony. "He's worked hard for it.
I just hope that he's blessed to accomplish the dream that he's been chasing." Then it would be on to what's next in line for the family. O'Brien Schofield , Admiral's older brother, won a Super Bowl with the Seattle Seahawks.
Then Admiral worked his way into a college basketball standout with his NBA dream within reach. "I sit back and think about it and have to kind of kick myself in the backside and say, wow, that's amazing," Anthony said. Next up is the youngest Schofield son, General. "Provided Admiral does accomplish his dreams," Anthony said, "then he has a brother behind him and I have no choice to make sure he makes his.".
The House just passed a bill to close the gender pay gap
House Speaker Nancy Pelosi, center, and Reps. Barbara Lee (D-CA), right, and Rosa DeLauro (D-CT), are seen in the Capitol. DeLauro is the author of the Paycheck Fairness Act, which passed this week. Tom Williams/CQ Roll Call House Democrats easily passed the Paycheck Fairness Act on Wednesday — their latest in a long series of…
House Speaker Nancy Pelosi, center, and Reps. Barbara Lee (D-CA), right, and Rosa DeLauro (D-CT), are seen in the Capitol. DeLauro is the author of the Paycheck Fairness Act, which passed this week. Tom Williams/CQ Roll Call House Democrats easily passed the Paycheck Fairness Act on Wednesday — their latest in a long series of attempts to make sure women and men are paid equally. The final vote was 242-187.
Democrats were joined by seven Republicans. To give you a sense of how long bill author Rep.
Rosa DeLauro (D-CT) has been fighting for this cause, she first introduced the bill in 1997.
"Very simple concept: Men and women in the same job deserve the same pay," DeLauro told Vox. "It used to be this was the fringe; it was a women's issue, 'Why do we have to deal with it?'" A gender pay gap has long existed; women who work full time in the United States make, on average, 82 cents for every dollar their male counterparts make.
And data from the Bureau of Labor Statistics shows the gap has actually widened in the past four years. House Democrats last passed DeLauro's bill when they were in the majority in 2009 (it failed the next year in the Senate).
Now back in the majority, they have a rare opportunity to pass a bill that has struggled to gain momentum in both chambers when it's come up. Even though DeLauro and labor experts say a pay equity bill should be bipartisan, the Paycheck Fairness Act has languished out of the spotlight when Republicans have been in power. Democrats are hoping the momentum of the #MeToo movement and a historic number of women in Congress will give this idea new life. "This is historic. Rosa has been introducing this bill forever," House Speaker Nancy Pelosi told the House Democratic Caucus on Tuesday, according to an aide present. "But public sentiment — public, social media, and all the rest — with help us with this.
" What's in the Paycheck Fairness Act The Paycheck Fairness Act essentially works to close loopholes in the landmark Equal Pay Act of 1963, which required that men and women receive equal pay for equal work. As Vox's Alexia Fernández Campbell wrote , that bill didn't exactly work as intended. Progress has been hampered in a number of ways: There are several reasons for the pay difference.
Women are less likely to negotiate pay, and more likely to be penalized when they try.They are also more likely to choose career fields that pay lower salaries and are often pushed out of the highest-paying professions in the country, which reward workers who put in long hours — schedules that disproportionately hurt working mothers . But after taking education, occupation, and work hours into account, researchers say that discrimination could explain about a third of the pay gap .
A 2013 study by the American Association of University Women found that women get paid 6.6 percent less than men in their first jobs, even after considering factors such as job location, occupation, college major, and number of hours worked. The Equal Pay Act says employers can't differentiate salary based on gender unless a number of factors — including seniority, merit, and work level — come into play. On its face, it makes sense; a new entry-level employee would not be paid the same as a higher-level employee with more experience. But over the years, women found out they were making far less than male colleagues with the same experience and job titles. The most well-known example is Lilly Ledbetter , who sued her employer Goodyear Tire after finding out male managers with less experience were getting paid more money that she was as a female manager.
Ledbetter's crusade resulted in the Lilly Ledbetter Fair Pay Act, which President Barack Obama signed into law in 2009. That law changed the Civil Rights Act so that workers could sue for fair compensation up to 180 days after receiving a discriminatory paycheck from their employers — rather than when the salary decision was made. DeLauro's Paycheck Fairness Act tries to push back on lingering inequity in three key ways. Perhaps most importantly, it would ban employers from asking candidates how much they made in previous jobs. It would also get rid of employer rules that keep workers from talking about their salary information, so that women could ask how much their coworkers are making and find out if they're underpaid. Third, the bill would require employers to be much more transparent about how much they're paying workers.
Employers would have to share salary data with the Equal Employment Opportunity Commission, so that body could watch out for potential discriminatory practices. As Fernández Campbell noted, that's gotten significant pushback from businesses that would like to keep that salary data private. And DeLauro said she's heard complaints in the past from male lawmakers asking why they had to deal with a "women's issue." "Women self-select to get less money! Those were the arguments I heard," DeLauro said.
But her bill doesn't get at another important root cause of the gender pay gap: the economic impacts of motherhood. As Vox's Sarah Kliff wrote, Princeton University economist Henrik Kleven found that mothers in Denmark (a country with a robust social safety net) saw their earnings take a significant hit after they had a child. Kleven compared the salaries of mothers to childless women and to men and found that "childbearing accounts for 80 percent of the gender wage gap in Denmark." As Kliff wrote : Kleven finds a sharp decline in women's earnings after the birth of their first child — with no comparable salary drop for men.
The cumulative effect is huge: Women end up earning 20 percent less than their male counterparts over the course of their career. His study is among a growing body of research that suggests what we often think of as a gender pay gap is more accurately discussed as a childbearing pay gap or motherhood penalty. Why it's taking so long for Congress to do something about the gender pay gap It's the 11th time DeLauro has brought up this bill, and its second time passing the House of Representatives. A number of things have hampered the bill's progress, most notably the number of years Democrats spent out of the majority.
But other impediments include delays while the courts figured out how to interpret the original 1963 law, according to Vasu Reddy, senior policy counsel for the National Partnership for Women and Families. Many judges interpreted the clause "any factor other than sex" in the 1963 law very broadly, she added. "Problems don't become apparent until you've had these bad rulings by the courts," she said. "Civil rights evolved over time. I think there's just been more awareness of different issues around equal pay." DeLauro, Pelosi, and other Democrats recognize the time is ripe to press the issue again.
Equal pay for equal work is having a renewed moment, especially in the wake of the #MeToo movement and high-profile Hollywood actresses going public about getting paid far less for big films than their male co-stars. But the problem is far more widespread, disproportionately hurting female and nonwhite workers.
"We are in a different environment," DeLauro said. "We're looking at the intersection of where the public is on men and women and the workforce, and we're looking at a body that is over 100 women who are here. Equal pay for equal work is now the center of public discourse today." It's unclear whether the bill has a path in the Senate.
But with the most diverse House class in history, advocates are feeling optimistic that something can get done eventually. "I think there have been gaps in understanding around women's experience that this new and diverse Congress can begin to close," said Victoria Budson, executive director of the Women and Public Policy Program at Harvard University's Kennedy School..
House Democrats pass equal pay for equal work act
Ten years after President Barack Obama signed the Lily Ledbetter Fair Pay Act into law, House Democrats voted Wednesday to approve the Paycheck Fairness Act, delivering one of the cornerstone pieces of their "For the People" agenda to the Republican-led Senate. The vote passed 242-187, primarily down partisan lines, as the full Democratic caucus voted…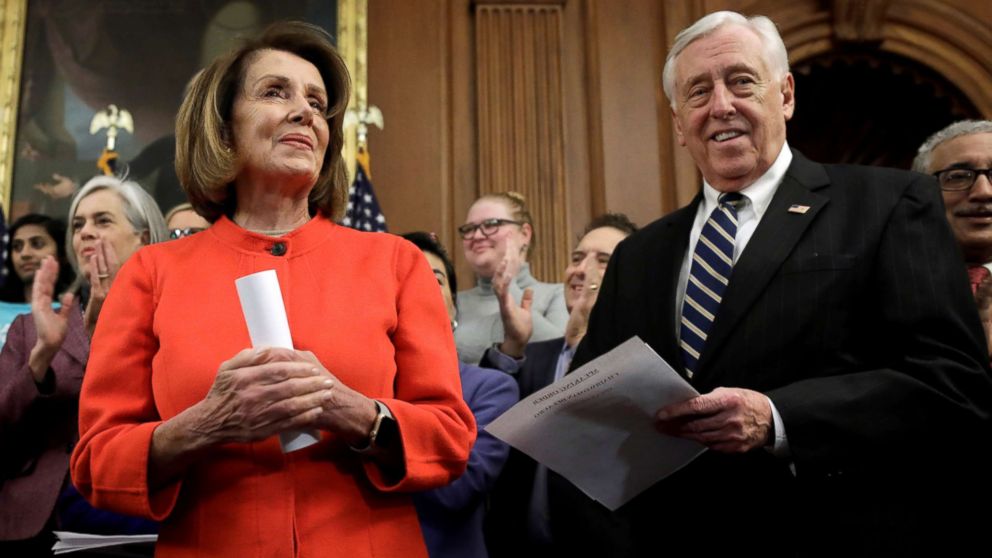 Ten years after President Barack Obama signed the Lily Ledbetter Fair Pay Act into law, House Democrats voted Wednesday to approve the Paycheck Fairness Act, delivering one of the cornerstone pieces of their "For the People" agenda to the Republican-led Senate.
The vote passed 242-187, primarily down partisan lines, as the full Democratic caucus voted in favor of the bill and seven Republicans crossed the aisle to support it.
Stressing that while there has been progress towards pay equality in recent years, Democrats renewed the push for equal pay for equal work because women still earn just 80 cents to the dollar a man makes for the same work.
Lily Ledbetter, the plaintiff in a landmark employment discrimination case, was on-hand to join Democrats at the bill's introduction on Jan. 30, urging Congress "to step up again."
"I'm here because equal pay for equal work is an American value," Ledbetter said.
"And it's time that we have American reality.
"
(Alex Wong/Getty Images) U.
S. Rep. Alexandria Ocasio-Cortez speaks as other House Democrats listen during a news conference at the U.S. Capitol in Washington, D.C., Jan. 30, 2019.
Women who work full time in the United States are paid on average 80 percent of what men are paid, according to a 2018 study by the American Association of University Women, an advocacy group that promotes equity and education for women and girls.
The analysis also found that disparities are even sharper among Latinas, at 54 percent, and black women, at 63 percent, and range by state from a low of 70 percent in Louisiana and Utah to a high of 89 percent in New York.
The political firepower that Democratic women possess heading into the 2020 presidential campaign continues to grow. There is a record number of women expected to seek the Democratic nomination and a record 102 women serving in Congress, but there is still a majority of white men serving in Congress.
"It's historic," House Speaker Nancy Pelosi, D-Calif., said of the bill. "And that it should happen at a time when we have over 100 women serving in the House of Representatives — that it should happen in the same Congress that we will also observe the 100th anniversary of the passing of the Amendment to have women have the right to vote: it's all very historic. It's all about progress.
"
(Alex Wong/Getty Images) Women's equality activist Lilly Ledbetter speaks as U.
S. Speaker of the House Rep. Nancy Pelosi, right, and other Democratic Congressional members listen during a news conference at the U.S. Capitol, Jan.
30, 2019 in Washington, D.C.
Ten years ago, women earned just 78 cents to each dollar a man earned at the same job.
If enacted, the bill would end so-called pay secrecy, ease workers' ability to individually or jointly challenge pay discrimination and strengthen the available remedies for wronged employees, according to the bill's sponsors.
The measure would strengthen and close loopholes in the Equal Pay Act of 1963 by holding employers accountable for discriminatory practices, ending the practice of pay secrecy, easing workers' ability to individually or jointly challenge pay discrimination, and strengthening the available remedies for wronged employees, according to its author, Rep.
Rosa DeLauro.
"Today, we can make a difference for working women and their families. The biggest economic challenge of our time is that Americans are in jobs that do not pay them enough to live on. This will be the first bill that the majority is passing to address that economic need for families," DeLauro, D-Conn., said during debate on the bill.
"Paycheck Fairness puts gender-based discrimination sanctions on equal footing with other forms of wage discrimination by allowing women to sue for compensatory and punitive damages," she said. "It better protects employees from being fired for sharing their salary with co-workers.
It establishes a grant program to provide salary negotiation training for girls and women. And, it ensures employers are not reliant on wage history when they hire an employee."
There are 45 Democratic cosponsors on companion legislation in the Senate, though the bill is unlikely to advance any farther given the Republican majority.
.
Maryland minimum wage: State passes $15 minimum wage bill
Workers rally for a $15 minimum wage outside the Maryland State House on March 13, 2019, in Annapolis, MD. Matt McClain/The Washington Post via Getty Images Maryland just became the sixth state to raise the minimum wage to $15 an hour. On Thursday, lawmakers managed to override Republican Gov. Larry Hogan's veto of a minimum…
Workers rally for a $15 minimum wage outside the Maryland State House on March 13, 2019, in Annapolis, MD. Matt McClain/The Washington Post via Getty Images Maryland just became the sixth state to raise the minimum wage to $15 an hour. On Thursday, lawmakers managed to override Republican Gov. Larry Hogan's veto of a minimum wage bill. Maryland's current minimum wage is $10.
10, and the new policy willgradually raise the wage floor to $15 by 2025.
Hogan had blocked the bill earlier this week, claiming that such a change would " devastate " the economy. But it was clear early on that he would be unable to stop the national momentum building around a $15 minimum wage. Democrats control both chambers in Maryland's General Assembly, and passed the wage hike bill with a veto-proof majority. On Thursday, they overwhelming voted to override Hogan's veto by 96-43 in the House and 35-12 in the Senate.
Maryland is now the third state to phase in a $15 minimum wage so far this year, and the sixth overall. In February, New Jersey and Illinois did so, too. While Hogan's veto was not surprising (he has always opposed a $15 minimum), it's a striking position in a state where the $15 minimum wage is so popular with voters in Maryland and across the country . The law will benefit about 573,000 workers in Maryland who currently earn less than $15 —about 22 percent of the state's workforce, according to the National Employment Law Project . Advocates for the wage hike didn't get everything they wanted in the bill.
For example, it won't eliminate the lower wage for tipped workers, which is $3.
63, and future changes to the minimum wage aren't tied to inflation. The bill also continues to let businesses pay agricultural workers less than the minimum wage, and allows employers to pay young workers less, too. But the push for a $15 wage is gaining support across the country, and has even reached Congress. For the first time ever, lawmakers on Capitol Hill are considering a bill that would raise the federal minimum wage to $15 an hour — another sign that the public pressure is paying off. It all started with frustrated McDonald's workers in Illinois Passing the $15 minimum wage bill is still a major win for the fast-food workers whose movement helped 5 million workers get pay raises in 2019 .
Within five years , they've transformed an improbable proposal into a popular policy — one that would address, in part, the slow wage growth American workers are experiencing. The workers' movement, called Fight for $15, organized strikes and rallies all across the country. But they saw little success until 2016, when California became the first state to hike hourly wages to $15, followed by Massachusetts, New York, and Washington, DC.
Business groups, meanwhile, are not happy about the fight for $15. And neither are their Republican allies in Congress. They've long pushed back against any effort to raise the wage floor at the federal level, claiming it would destroy small business and trigger massive job losses. But it's getting harder and harder for Republicans to justify their view that free-market capitalism — the idea that when the economy grows and unemployment is low, employers will be forced to raise wages — will take care of everyone.
Workers who already earn $15 an hour still struggle to raise a family, so it's no wonder that workers who earn less sometimes end up living on the streets . On top of this, Americans want the government to raise the minimum wage. Poll after poll shows widespread support , even among Republican voters. And a majority of voters want it increased to $15 an hour. That may explain why Thomas Donohue, president of the US Chamber of Commerce, recently toned down his usual criticism of efforts to raise the minimum wage, saying the chamber is " going to listen ." Even McDonald's, long criticized by labor activists for paying low wages at franchises, said this week that the company would no longer lobby against efforts to raise the minimum wage. The idea that raising the minimum wage is actually bad for workers is getting harder to support, as a growing body of research discrediting that claim emerges.
What research says about the impact of raising the minimum wage There are few topics US economists have researched more than the impact of raising a minimum wage. Their findings have varied over the past 30 years, but there are two things most mainstream economists now agree on . First, they agree that raising the minimum wage increases the average income of low-wage workers, lifting many out of poverty (depending on how big the raise is). Second, raising the minimum wage likely causes some job losses. The remaining disagreement revolves around how extreme the job cuts would be.
Some research suggests hundreds of thousands of American workers could lose their jobs with a modest increase to the minimum wage. Douglas Holtz-Eakin, an economist at the conservative American Action Forum, has pointed to a 2014 study from the Congressional Budget Office which estimates that a $10.
10 federal wage floor could lead to about 500,000 lost jobs because higher labor costs would lead some employers to scale back their staff. Other research concludes that increasing the minimum wage has an insignificant impact on employment, or none at all. The best way to evaluate the different conclusions is to analyze all the research findings together — what scientists call a "meta-analysis." And the most recent ones suggest that the most likely impact on employment is minimal. For example, a 2016 study by economists at Michigan State University crunched data from 60 research studies on the minimum wage in the United States since 2001. They concluded that a 10 percent increase in the minimum wage would likely reduce overall employment from 0.
5 percent to 1.2 percent. Another meta-analysis comes in the form of a new research paper by economists at the University of Massachusetts, University College London, and the Economic Policy Institute. They studied data from 138 cities and states that raised the minimum wage between 1979 and 2016.
The conclusion is that low-wage workers received a 7 percent pay bump after a minimum wage law went into effect, but there was little or no change in employment. In a 2018 working paper , soon to be published in the American Economic Journal: Applied Economics , economist Arindrajit Dube shows that raising the minimum wage significantly reduces the number of families living in poverty. For example, he concludes that a $12 minimum wage in 2017 would have lifted 6.2 million people out of poverty.
This growing body of research has helped lawmakers across the country argue for a $15 minimum wage. Maryland residents are the latest to win their case..